Paris Sketchbook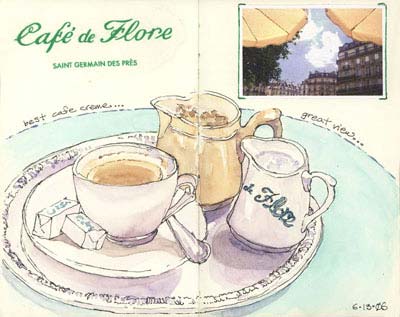 Coffee and the View at the Café de Flore
In June of this year I found myself in Paris, France on business and was able to stay an extra five glorious days for exploration and discovery. Here are a few pages from my sketchbook of that trip.
The Stravinsky Fountain at the Centre Pompidou, and the coffee I had while making the sketch
| | |
| --- | --- |
| Rue Saint-Honoré @ Place A. Malraux | I was by myself which I didn't mind a bit, and decided to wander each day with no particular plan or agenda. I just followed my nose as they say, and soaked it all in. I ended up not visiting a single site that required a ticket or a wait in line. I didn't even go into any art museums (except for gift shops, of course!). I did a ton of walking, people watching, a bit of shopping and some fun sketching. Most of my sketching was done from sidewalk cafes with a café au lait or glass of French champagne for moral support. Very refined! |
Paris is a visual feast and yes, beautiful. It's a great place for just looking, a favorite pastime of mine. I got some great ideas from Eric Maisel's A Writers Paris book which I highly recommend. It is not so much about writing as about setting time aside to pursue creative exploration and how a focused trip can facilitate that process. His ideas aligned very will with my intention for the trip so finding that book was a real bonus.
Earlier in my life the idea of being somewhere significant by myself (let alone Paris!) would have been horrifying. But now it was just what I needed and I had a wonderful time. I do promise to take my husband along next time though!